A CLOUD NATIVE SYSTEM TO SIMPLIFY Data Collection, Analysis & Processing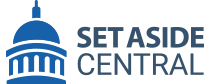 ABOUT
Set Aside Central's program mission is to provide federal contract opportunities to small, women-owned, 8a, hubzone and veteran-owned small businesses while simultaneously assisting top federal agencies to meet their federally mandated small business set aside quotas.
CHALLENGE
In an effort to ensure that all qualified small businesses received access to assistance, Set Aside Central needed a system to support the collection, analysis and processing of all data and opportunity entries across the 50 states, as well as the District of Columbia, the five major territories, and various minor islands.
SOLUTION
Titan Technologies delivered a web-based data collection and processing platform that supported a large, secure cloud-based SQL database and corresponding website. The team also delivered a business intelligence dashboard that provides daily updates of opportunities issued by the federal or local government agencies. A daily report of contract opportunities filtered by NAICS code or federal set aside category (8a, HubZone, etc.) is delivered to the subscribers via email.
RESULTS
The audience and target market for this product is any business across the entire country interested in bolstering awareness and subsequent abilities to go after relevant government contract opportunities. The program supports call processing for subscribers, technical support, subscriber follow-ups, daily federal contract opportunity data collection, normalization, and processing of substantial amounts of data daily. Certified cloud architects have created programming logic to normalize hundreds of thousands of database records daily to ensure data accuracy and availability to subscribers.