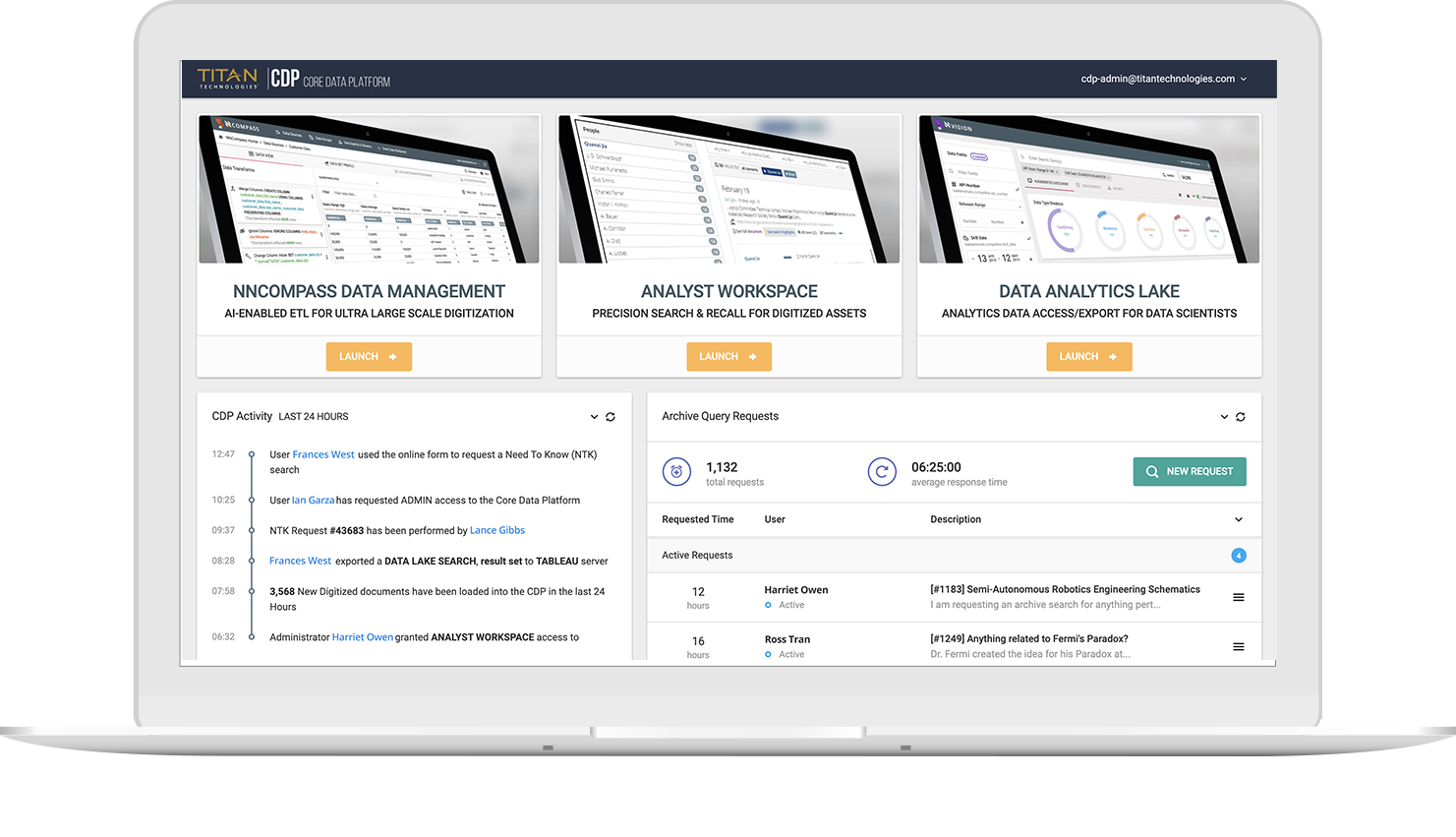 CORE DATA PLATFORM
Titan Technologies' Core Data Platform (CDP) is a next-gen data solution that ingests, extracts and enriches data from large hard copy archives of sensitive/classified documents to flexible, digital data repositories using cutting edge Machine Learning (ML) and Artificial Intelligence (AI) software.
The CDP provides users from across the enterprise an integrated precision search capability to access data from any integrated data source as well as digitized hard copy documents. Titan Technologies' CDP consists of five integrated elements to provide enriched, accessible, secure data for the enterprise.
AI-Enabled Data Management
The CDP's Extract, Transform, Load (ETL) Workflow Engine serves as the backbone of the data platform providing ML based data management, streaming data flow, preparation and transformation. This workflow engine applies AI against the ingestion of unstructured documents to produce better than commercially available OCR results and structured, actionable data sets.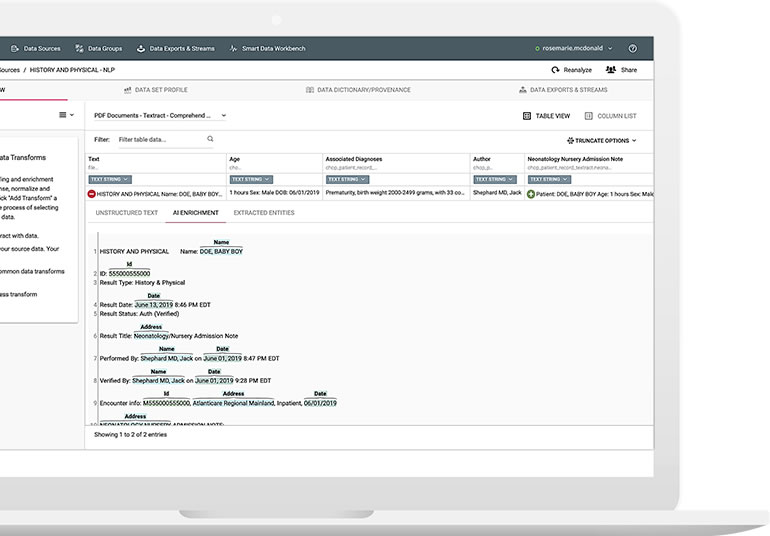 AI Enrichment:
NLP/NLU
The NLU/NLP layer comprehends unstructured text, auto-generating rich metadata to produce highly relevant search results. This NLP software applies sophisticated linguistic packages and taxonomies for accurate text categorization and entity extraction. Linguistic packages can be customized to incorporate existing customer ontologies, taxonomies and custom entities.
Data Integration Layer:
Unified Data Format
The Core Data Platform can ingest data from over 200+ different types of databases, schemas and structures. These data sources pass through the same ML workflows, security tagging, and AI-enrichment steps. The output is stored in a non-proprietary data lake in the Unified Data Format (UDF) for precision search and recall as well as export to visualization, BI, analytic and AI/ML tools. This allows any existing digital data repositories to be integrated into the CDP to provide the enterprise a single point of entry to access all their data.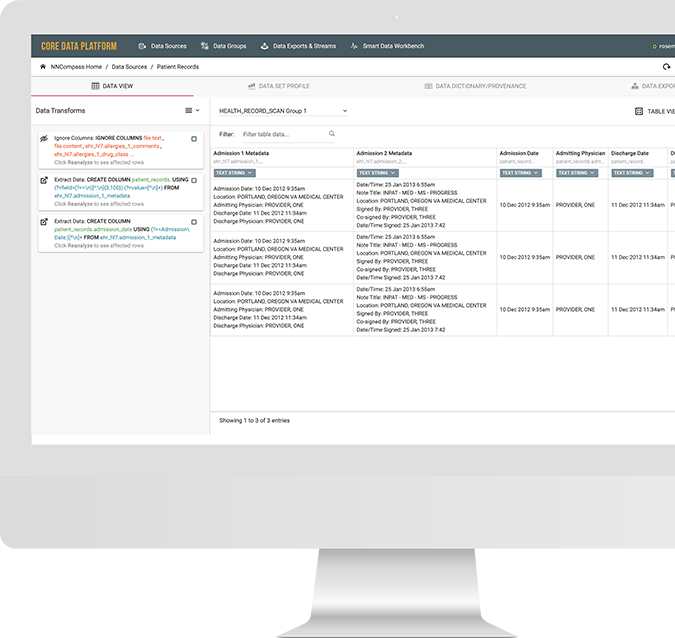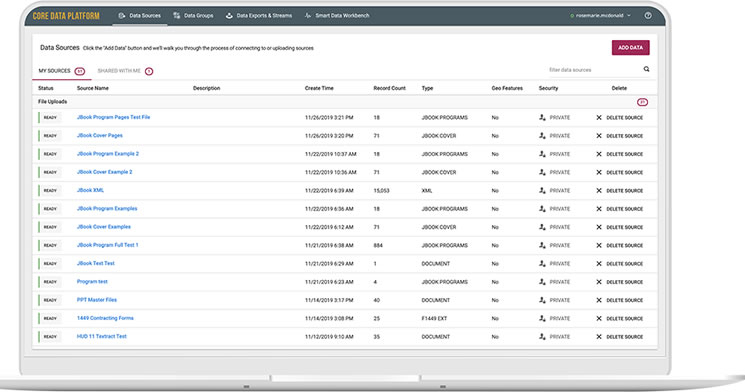 Data Security Layer:
Access Framework
During the ingest process, data transits through a security extraction process that supports cell and row level security. It cleanses and normalizes all security markings to enable the role-based and NTK data access critical in a classified environment.
Presentation Layer:
User Interface
The Titan Technologies CDP relies on a customized user interface that can be aligned with the specific needs of an organization's users. Additionally, the CDP can export data sets in an extensive number of formats for ingestion into other data visualization tools.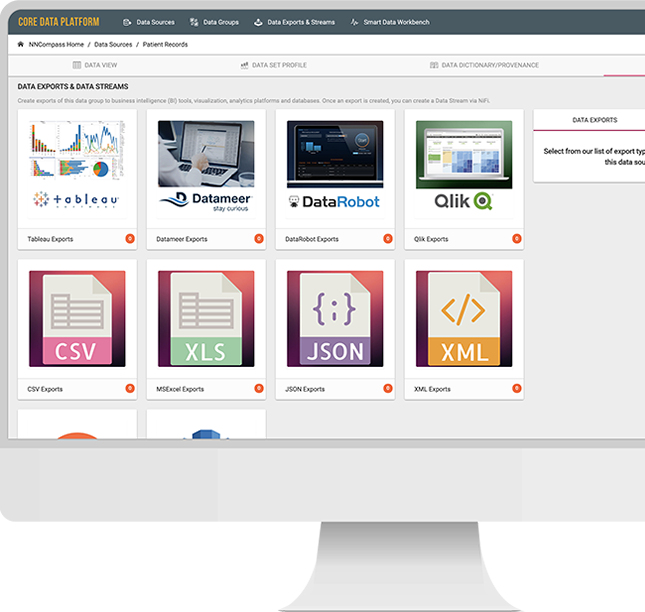 Learn more about Titan Technologies Core Data Platform